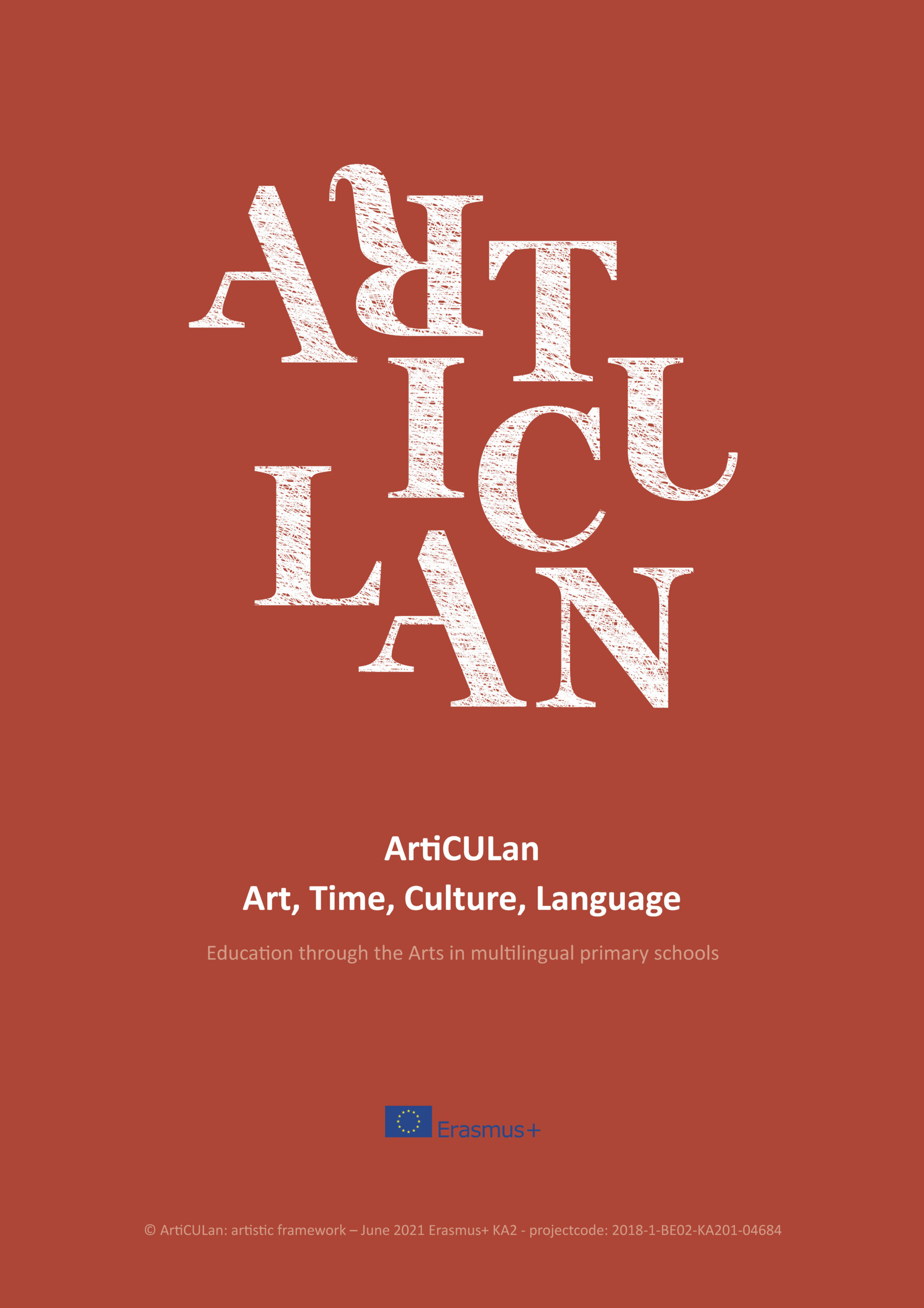 ArtiCULan – Art, Time, Culture, Language – Education through the Arts in multilingual primary schools
In this manual you will find the ArtiCULan artistic framework, the ArtiCULan common assessment tool and 12 ArtiCULan artistic workshops.
ArtiCULan – Art, Time, Culture, Language – Onderwijs vanuit de Kunsten in meertalige scholen
In deze handleiding vind je het adviserend artistiek kader ArtiCULan voor meertalige basisscholen, de ArtiCULan kijkwijzer met criteria voor muzische workshops in meertalige basisscholen en 12 muzische workshops.
ArtiCULan – Art, Time, Culture, Language – Çok Dilli İlkokullarda sanat aracılığıyla eğitim
Bu kitapçıkta şunları bulacaksınız: ArtiCULan sanatsal çerçevesi, ArtiCULan ortak değerlendirme aracı, 12 ArtiCULan Sanat atölyeleri.
ArtiCULan – Art, Time, Culture, Language – Educación a través del Arte en Centros de Educación Primaria multilingües
Este manual contiene el marco artístico ArtiCULan, la herramienta de evaluación común ArtiCULan y 12 talleres artísticos ArtiCULan.
ArtiCULan – Art, Time, Culture, Language – Educação pelas Artes em escolas primárias multilingues
Neste manual encontrará o enquadramento artístico ArtiCULan, o instrumento de avaliação comum ArtiCULan e 12 workshops artísticos ArtiCULan.
Download your version: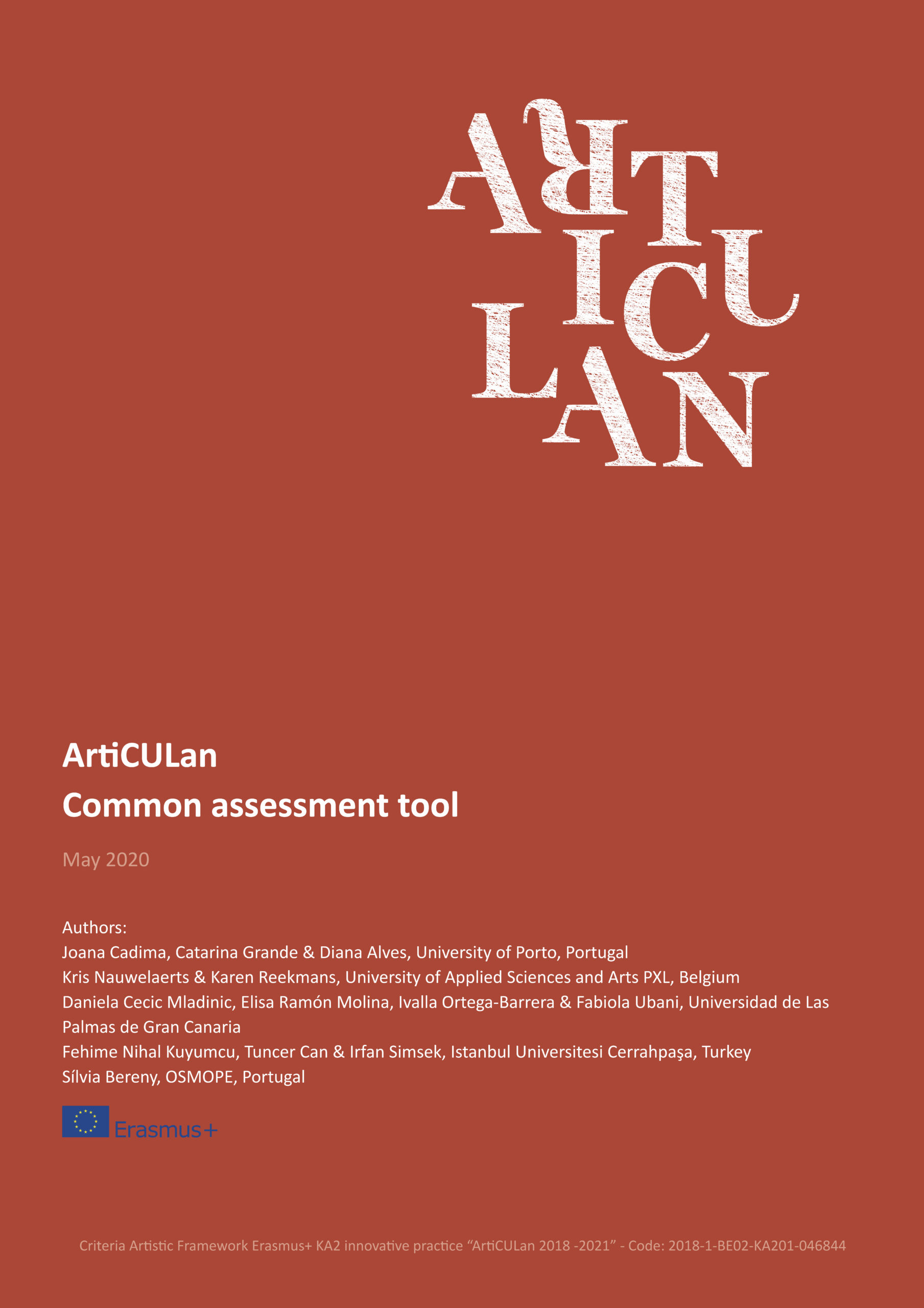 ArtiCULan Common Assessment tool
The current tool was developed to support professionals and staff in the design of the workshops, observation and reflection upon the most relevant features underlying creative, expressive and meaningful experiences. This tool offers a set of indicators that can be observed through the ongoing creative processes during the artistic workshops.
ArtiCULan gemeenschappelijke kijkwijzer
Deze kijkwijzer werd ontwikkeld als ondersteuning voor professionals en onderzoekers bij het ontwikkelen van de workshops, het observeren van en reflecteren op de meest relevante aspecten voor creatieve, expressieve en betekenisvolle ervaringen. Deze kijkwijzer bundelt een aantal criteria om creatieve processen te observeren tijdens muzische workshops.
ArtiCULan Ortak Değerlendirme Aracı
ArtiCULan'nın genel amacı çok dilli sınıflarda uluslararası ve çok disiplinli sanat atölyeleri düzenlemek ve geliştirmektir. Atölyelerde gözlem yaparak bu alanda çalışan profesyonelleri desteklemektir. Bu araç, sanat atölyeleri sırasında, yaratıcı süreç boyunca gözlemlenebilecek birtakım belirleyicileri de sunar.
ArtiCULan Herramienta de evaluación común
Se planteó la actual herramienta para apoyar a los profesionales y al personal en el diseño de los talleres, la observación y la reflexión sobre las características más relevantes que subyacen a las experiencias creativas, expresivas y significativas. Esta herramienta ofrece un conjunto de indicadores que se pueden observar a través de los procesos creativos en curso durante los talleres artísticos.
ArtiCULan Ferramenta comum de avaliação
A ferramenta atual foi desenvolvida para apoiar profissionais e pessoal na concepção dos workshops, observação e reflexão sobre as características mais relevantes subjacentes às experiências criativas, expressivas e significativas. Esta ferramenta oferece um conjunto de indicadores que podem ser observados através dos processos criativos em curso durante os workshops artísticos.
Download your version:
Conference Bilingual education [English]
Webinar May 31st [Spanish]